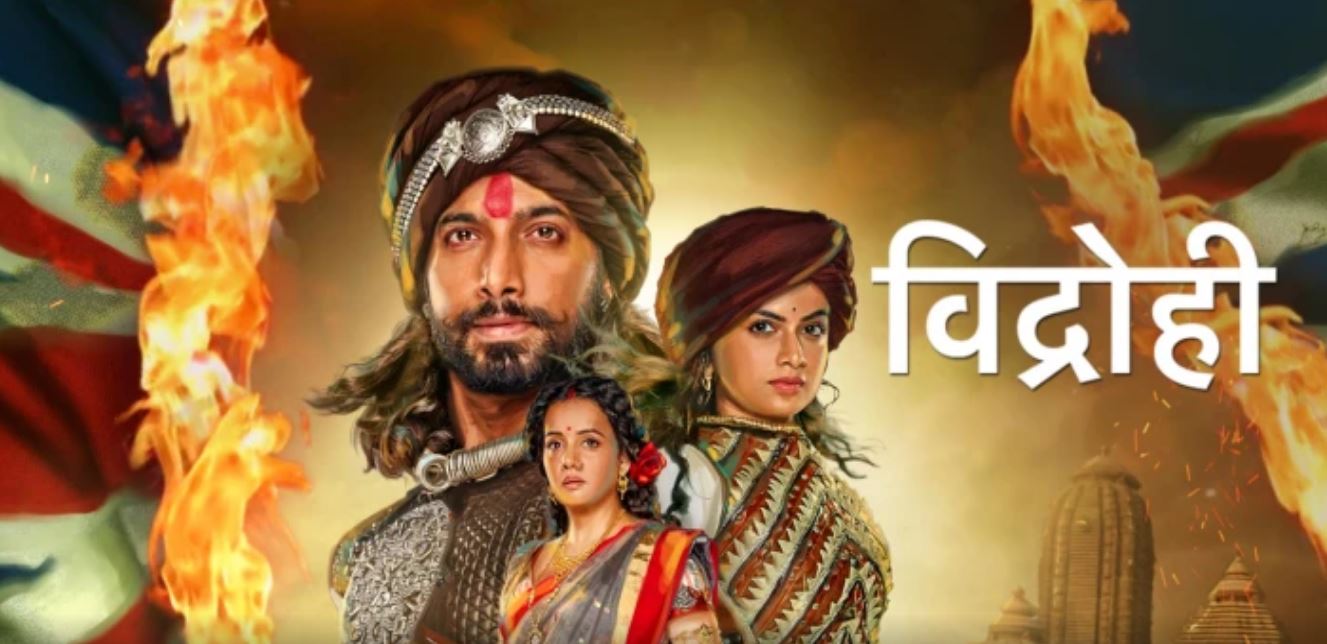 Vidrohi 25th November 2021 Written Episode, Written Update on TellyUpdates.com
The Episode starts with Kalyani saying its my mum's Kamarbandh, my dad gave it to me, I have worn it as her memory. Radha smiles. She says if you want to wear it, then wear it, what others think doesn't matter. Kalyani thinks everyone will ask me the same, it will not be good for Radha. Kalyani says you keep this kamarbandh with you safely, I will take it whenever I want. Radha says fine. Kalyani gives the kamarbandh to Radha. Tilottama looks on and thinks to find out the mystery of the Kamarbandh. She goes after Radha and asks about the Kamarbandh. Radha says Kalyani gave it to me to keep it. Tilottama says married women wear it. Radha says yes, but I don't wear it, its not necessary that just married women wear it, Kalyani told me, we have a relation, she doesn't lie to me, she values the relations, like you do, I don't see any cheat in her. She goes. Tilottama says I have lied to you many times, you didn't know, it means Kalyani can also lie to you, I will ask you the day when you understand this.
Jagabandhu stops Baahu and asks him not to go to Badamba. He says I know what mum wants to do. Baahu says tell me, what's the matter, share the problem with me. Jagabandhu says there is a secret that I m hiding from everyone. Baahu asks what is such secret, tell me. Jagabandhu says Badamba and Rodang have a collaboration. Baahu says everyone wanted this, why did you hide this. Kalyani says my dad didn't want the britishers to know about this collaboration, it can affect Mohan and my protection. Jagabandhu says its not the right time to go there, both the armies will come together on the right time on my command. She says on our command. Baahu says its good. He hugs Jagabandhu and reminds his duties. He goes. Kalyani says I have no identity in this marriage, but we have equal partnership in this collaboration, army will come on our command. She says I hope you won't have any hesitation to tell this to your family. He nods and asks her to rest. He steps on a nail. He gets hurt. She runs and helps him. She ties her saree and does the aid to his wound. She asks him to take care. He comes home. Radha's mum sees him with the cloth ties to his foot. She asks how did Radha tie such a cloth. He says Kalyani has tied it, I will change it. She says why did Kalyani tear her saree cloth and tied to his feet, when will Radha understand this. Radha comes. Her mum says Jagabandhu's foot is hurt by a nail. Radha rushes to see him. She asks what happened. He says nothing, its a small injury. She says you forgot to tell me today. She does the aid. She says its a small wound, what's this cloth, there is no ointment in this. He thinks of Kalyani.
He says Kalyani was around, she got scared seeing the blood and tied the saree cloth. Radha asks what, I will just come. She goes to Kalyani. Her mum follows. Radha says you have torn your saree and tied to his wound, instead calling me, what did you do, you are a princess, you took a big step for a small thing, I came to thank you. She hugs Kalyani. Her mum looks on. Radha says I m glad that you have accepted this family. She goes. Radha's mum says I m glad to see your concern, but your goodness can hurt Radha. Kalyani says you mean I should have not done the aid. Radha's mum says he is a Senapati, he has undergone many such wounds, you have to control yourself and not develop any feelings, else it will get too late to realize. Kalyani says I would do that for anyone, if you felt bad, then forgive me. She smiles.
Radha's mum says you are smiling. Kalyani says yes, I m thinking about Radha and your thinking's difference, Radha came to thank me. Radha's mum says she is innocent, I request you not to break the limits, you may go on any path where you just get disappointment. She goes. Kalyani laughs and says she thinks I have fallen in love with her Jamai, if she knew the truth, then she would also laugh, we always fight, she thinks I have feelings for him. She says it will be good to stay away from Baxi. Maid comes to call her. She says Kalindi came to meet you. Kalyani asks really, I m coming, he would have got dad's message. She worries and says if he tells anyone about Baxi and my marriage, then…

Precap:
Kalindi meets the family and says Maharaj has sent these gifts for you all, he wanted to give this at the time of the marriage. Everyone looks on shocked.
Update Credit to: Amena
The post Vidrohi 25th November 2021 Written Episode Update: Kalyani cares for Jagabandhu appeared first on Telly Updates.