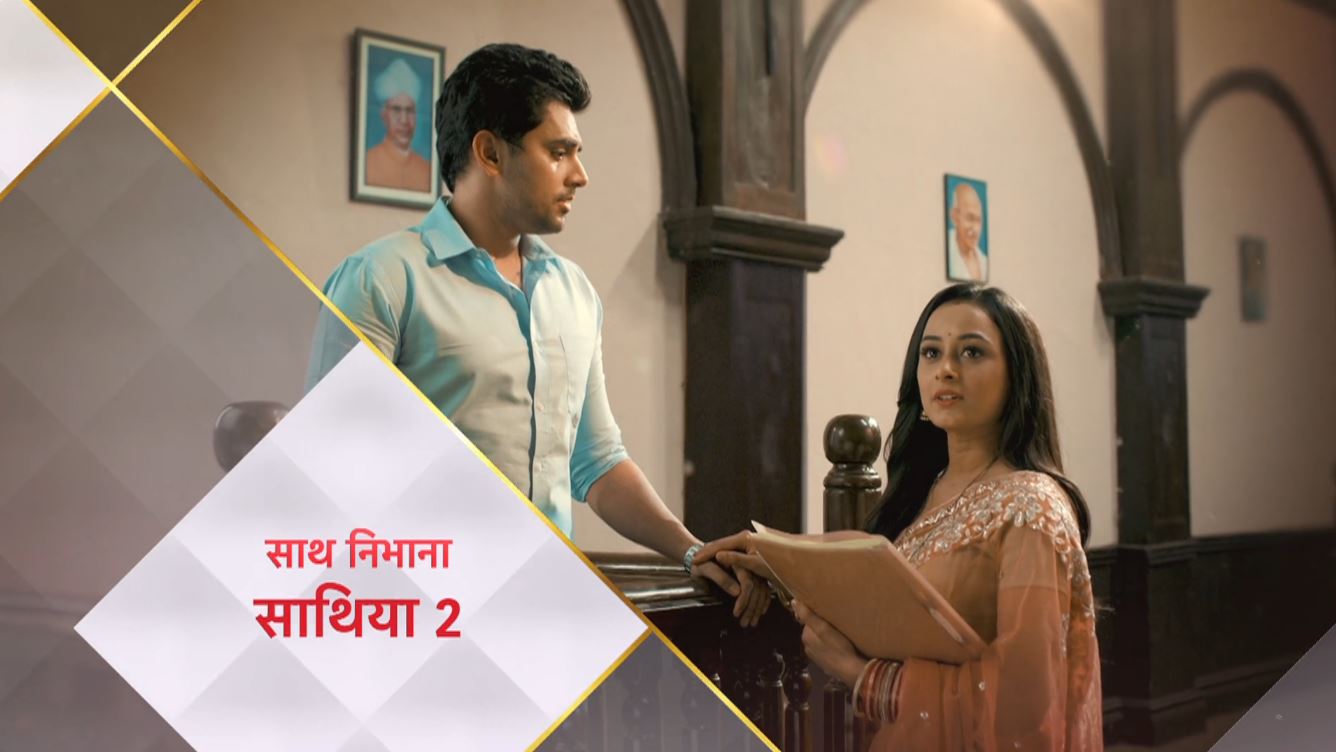 Saath Nibhana Saathiya 2 19th November 2021 Written Episode, Written Update on TellyUpdates.com
Gehna emotionally hugs Swara. Swara tries to stab Gehna. Her mother Kusum stops her and snatches knife from her. Gehna emotionally says they are lucky to reunite again, her baba/father is not with them but became a reason for their reunity. Kusum hugs her and says its a game of fate and will turn back anytime. Gehna takes her father's photo and runs home to inform family. She reaches home and calls whole family. Family walks to her. She tells she wants to tell them something and says she found her pihar/mother's family. Anant asks where are they. She says Swara is her lost sister and Kusum her mother, she will go and bring them here. Baa stops her and says a dancer Swara spoilt her mind. Gehna shows her father's photo in her locket and Swara's father's pic and says Swara is her sister.
Swara asks Kusum why she stopped her from killing Gehna, snatches knife from her, and says she will kill Gehna right now. Mother slaps her. Swara asks reason. Mother says Gehna has a spark of hatred for Gehna, but she has a fire of hatred for Gehna. She goes into flashback where baby Gehna's father notices a jewelry in Gehna's hand and asks where did she get it from. Baby Gehna shows jewelry in Kusum's trunk. Father calls Kusum and confronts her for stealing jewelry. Kusum alleges Gehna for getting her caught and tries to slap her. Father stops her and slaps her instead and goes to bring people to return their jewelry. Kusum curses Gehna and leaves home with Swara. Out of flashback, Kusum says her honest husband died before time trying to save some honest man. Swara says they had to suffer because of Gehna, she will not spare her; Gehna is enjoying in a mansion while they wandering on streets. Kusum says she should keep her spark of revenge alive for some more time and reveals that she saw Gehna on TV and decided to burn her house to reach Gehna; she planned well to enter Gehna house, etc. Swara says she will snatch everything from Gehna and leave her to suffer like they did.
Baa tells Gehna that she cannot let Gehna give her rights to a dancer Swara. Gehna says Swara is her sister and not a dancer. Baa says bad blooded Swara cannot be Gehna's sister and hence Swara and her mother cannot stay in this house. Swara and Kusum stop at door hearing that. Gehna says they are her family. Baa says people like them ruin families and houses, daughters and DILs stay in this house, and she cannot let a dancer stay in her house. Gehna says she is bahu of this house and has right on this house, hence she will bring her mother and sister in this house. Baa walks away fuming. Bapuji permits Gehna to bring her family in and let him handle Baa. Gehna brings them in. Anant welcomes them. Swara says its a special day for them as its her parent's wedding anniversary. He says they will party tomorrow with friends and even perform pooja. Gehna thanks him. Bapuji asks Anant to let Gehna and her family speak alone and not interfere between them. Swara tells Kusum that their plan worked. Kusum says she wants to rule over this house, this is just the beginning, she is waiting for tomorrow's party.
Gehna walks to Baa's room and requests her to punish her but not get angry on her. Baa says her buttery talks will not melt her, she called her mother but insulted her in front of everyone. Gehna holds her feet and says she can never insult her. Baa says if she gives respect to one, another is insulted. Gehna says she has 2 mothers, one who gave her birth and another who gave her this house and family; they will not organize function in this house without her permission; she should give them a chance to show their goodness as she cannot leave both mothers, etc. Swara walks in and takes Gehna out to show Anant decorating house for party. Kusum tells Gehna that she feels happy seeing her in this lavish house leading a peaceful life. Gehna asks why did she leave her. Kusum says she knew she would question her and should wait for some time to get her answers, looks at Swara, and acts as crying. Gehna consoles and hugs her and Swara. Anant clicks their pic and shows it to them. He asks Gehna if mom agreed. Gehna says maa is still angry. Anant asks not to worry as dad will convince mom and bring her to tomorrow's party.
Precap: Swara dances during party.
Guests complain that there is aarti on one side and lewd dance on the other side.
Update Credit to: MA
The post Saath Nibhana Saathiya 2 19th November 2021 Written Episode Update: Kusum Reveals Her Evil Plan appeared first on Telly Updates.