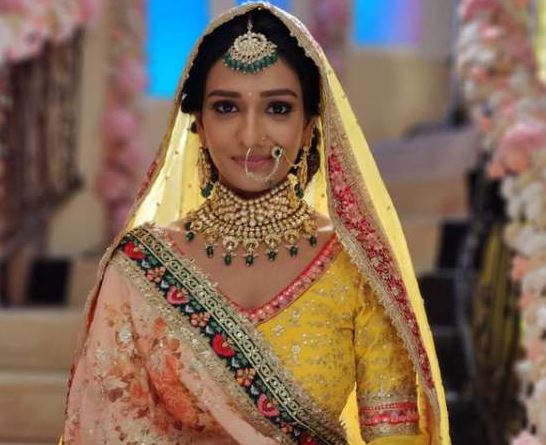 hey guys am Ravya….as per the latest LOVE BAND PROMO…Lakshmi has seen Rishi and Malishka hugging and sees the love bands in their hand…..well i have decided to write an ff….based on that…THIS FF IS JUST FICTIONAL!
Lakshmi had seen them hugging she was heartbroken and wondered what and why did Rishi do this to her….she ran as fast as she could she didnt notice the waiter carrying the juice glasses and just hit him and went running ……all the juice glasses fell and broke into 1000s of pieces but that was not even a bit equal to number of pieces Lakshmi's heart had broken…..all turned around and saw the broken glasses and a heart broken Lakshmi running……Ayush,Ahana,Devika,Shalu,Bani ran behind her and so did her Chacha…but Neha and Rano just smirked they were happy she knew the truth and her" dil was officially murdered "(as it was told by Neha a few episodes before)….but Karishma she was more worried about those broken glasses and so was Sonia…and were insulting her Chacha who was told to stay back by Ayush …saying she broke such expensive glasses….Virendra and Dadi were worried…but Neelam was as usual emotionless…..Rishi and Malishka came down hearing the commotion and when Rishi learnt about a heartbroken Lakshmi running away he just left Malishka's hand and ran away to find out where she could have gone….Malishka was infuriated
Meanwhile….Lakshmi kept running she lost her way but just kept running…until a car came and hit her….she got hurt severely…….Ayush and team finally so the car and injured Lakshmi…Ayush kept hurdling abuses at the car driver…until he noticed the Car driver and another person in the car coming out….it was none other than Rishi's unidentitical twin Neel who was driving the car and the other person was Naksh ,Devika's younger brother(he is gonna be the love intrest of Bani in the upcoming episodes),2 handsome and tall guys,…..Ayush ,Ahana,Devika were shocked! You 2 are back but see what have you done you have injured Bhabhi,said Devika….Naksh and Neel said they were sorry and didnt intent to hit her…..we better take Lakshmi Bhabhi to a hospital it is just 5 minutes away you guys come walking…said Naksh..Ayush and team agreed to it
Rishi kept running but couldnt find anyone…Malishka ran and called him "Rishi,Rishi stop!" but Rishi paid no heed to her…..Lakshmi had been admitted in the hospital and her surgery had begin…Ayush and team arrived…….and were pondering over the fact on why Lakshmi ran and why was she so heartbroken…..Neel was feeling so guilty he wished he never drove the car so fast….and wanted to say sorry to Lakshmi….Ayush told Shalu and the others …i shall call Mama and inform him….about it…..he called Virendra and told him about the accident ……when Virendra heard the news his phone dropped in shock "thud" …dadi got more worried….Neelam asked as usual anything happened to Rishi…Karishma and Sonia said why are you overacting what is the issue….Rishi and Malishka had come back home…as they still couldnt fine Lakshmi and the others……Neelam told the guests to leave….and asked Rishi you are fine beta thank god…Virendra was still in shock and Rishi and Malishka asked what had happened ….Neelam said i really dont know why is he reacting like this we kept asking him he isnt answering….he finally told it- " LAKSHMI KA ACCIDENT HOGAYA HAI!" …Dadi was in shock and cried…..Sonia and Karishma had no reaction to it…..RIshi and Malishka were shocked……Neelam was worried saying if Lakshmi is danger and dies…then who will save him from his Markesh Dosh……Virendra ordered the driver to take them to the hospital…..Karishma and Sonia preferred staying back…the others went along with Virendra..
In the hospital…the surgery had gone succesful…..Neel had given his blood as she had lost lot of blood…the Oberois arrived…..Neelam was happy to see Neel and Naksh they took blessings from here…..she forgot about Lakshmi…and kept asking questions about their life in Spain….until Neel asked a question to Neelam "WHY ARE YOU SO WORRIED ABOUT US…..LAKSHMI WAS JUST FIGHTING BETWEEN DEATH AND LIFE …..YOU HAVE NO FEELINGS ?"…this shocked Neelam she had no answer
The post I wish you never cheated me !-Rishmi fan ff (part 1) appeared first on Telly Updates.