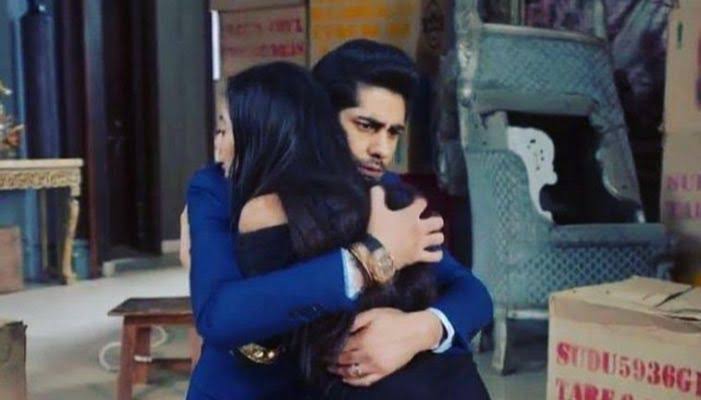 YOU HAVE TO COME BACK FOR ME, FOR US, FOR OUR…

Vansh along with Angrey & Vihaan was coming back to his home, VR Mansion. In VR Mansion riddhima the most excited person for her husband's arrival was doing some decorations for his welcome.
Just then the whole family heard a voice of horn as a luxurious car stopped in front of the main gate and smiled in happiness finally there wait was over.
With the support of Viangre (vihaan + angrey) Vansh entered inside only to see the whole Mansion in dark which made him curious.
Walking further he startled as everyone shouted together and lights turns on making his heart dance in happiness seeing his family all together after so long.
Everyone came towards him and welcomed him and hugged him tightly expressing there happiness and made him sit on the sofa. But his eyes were finding someone his SOLACE, his sweetheart, his Riddhima.
And here she came wearing a navy blue saree looking extremely gorgeous with a cake in her hand.
Going towards him she kept the cake on table and a smile drew on his face seeing the topping of the cake which was written 'WELCOME BACK PAPA'.
Cutting the cake he fed it to dadi and riddhima and then the family. Dadi came with a bowl in her hand which was filled with his favorite dessert Meethi Bhaat.
Dadi made him eat with her hand while tears rolled down from her eyes and Vansh hugged her.
Vansh: Dadi why are you crying? Aapka potaa aapka peecha itni asaani aur itni jaldi nhi chhodne wala abhi to aapko mujhe aur jhelnaa hai.
He said jokingly while dadi slapped his head softly while whole family smiled seeing them happy.
Dadi: Now you go to your room and take some rest. Riddhima take Vansh to the room..
Riddhima: Ji dadi.
She said and took vansh to their room. Entering there he was bit shocked seeing so much changes in his room.
Vansh: Riddhima what is this?
Riddhima: Vansh it's room.
She said smiling sheeplessly while he face palmed himself.
Vansh: Woh to I also know riddhima. Main do din iss kamre se dur kyaa gyaa tumne to iska huliyaa hi badal diyaa. Seriously instead of my guitar and guns here are toys do I look like a small child.
Riddhima: Ohh Ohh vansh, I know that you are not a child but in some months a small child is coming naa, to did this changes for him/her. I don't want him/her to grow between guitars and guns.
She said smiling quietly and he smiled at her and kissed her forehead softly.
Then his eyes went towards the food that was kept on the table making his eyes go wide.
Vansh: Now what is this?
He asked indicating towards so much foods while she looked at him.
Ridhhima: obviously Vansh it's food I made this for you!!
Vansh; Riddhima mera pet (stomach) hai koi food storage chamber nhi tumhe lagta hai ki main itna sab khaa paunga.
Riddhima: Vansh log kehte hai ki pati ke dil kaa rasta uske pet se ho kar jata hai, to…
She said and encircled her arms around his neck while he pulled her towards him by her waist.
Riddhima: to Maine socha kyaa pata mere pati ke dil kaa rasta bhi uske pet se ho.
Vansh: Ohhhh.
He said while she smiled and nodded cutely.
Vansh; Agar mein kahu ki I don't want to eat this, I want to eat something else.
He said eyeing on her rosy pink lips.
Riddhima; Haan to batao tumhe kyaa khana hai Main woh abhi bana kar lati hun.
Vansh: I want to eat you sweetheart.
He said and took her lips in his and kissed her passionately sucking and biting her lips. After breaking the kiss because of lack of breath he looked at her while her cheeks got crimson red and blushed hard.
Vansh: Ohh someone is blushing.
He teased her while she smacked his arms playfully.
Riddhima: such a shameless creature you are Vansh.
Vansh: just for you love.
He said and bent down kissing her belly softly while she caresses his head.
Vansh: Riddhima the day we became one was best day of my life par sab kuch itna jaldi hua ki main tumse apni dil ki baat keh hi nhi paya. To aaj main khul ke tumse aapne pyaar kaa izhaar karna chahta hun.
He said looking directly into her eyes.
Vansh: Ragini kaa sach jaane ke baad mujhe nhi laga tha ki main kabhi pyaar karunga lekin tumne mujhe galat sabit kardiyaa Riddhima tumne mujhe firse pyaar pe bharosa karna sikhaya tumhare pyaar ne mujhe majboor kar diyaa ki main kisi pe vishwaas kar saku usse apna dil de saku uske bharosa kar saku. I love you I love you so much sweetheart.
He said while she smiled with tears in her eyes. She was overwhelmed, overwhelmed by his confession and sat on her knees in front of him and took his hand in hers.
Riddhima: Bohut chahti hun tumhe main vansh itna ki jitna Maine khud ko yaa kisi aur ko nhi kabhi nhi chaha hoga. Abb dar saa lagta hai ki kahi tumhe bhi main kho naa dun Jesse Maine mere apno ko kho diyaa tha. Bohut pyaar karti hun tumse vansh aur tumse dur jaane ki soch bhi nhi sakti. I love you vansh I love you so much.
She said and they hugged each other tightly expressing there happiness and love.
Vansh took her in his arms and made her lay on the bed and layed upon her carefully not to hurt there unborn child and again kissed her pouring all there love in that kiss.
2 years later.
A woman is seen scolding a girl of around 2 years old they were revealed to be Riddhima and her daughter Vanya.
Riddhima: Hundreds of time I have told you vanya to don't break your toys but you never listen Me, what is your problem.
Just then Vansh came there with some new toys in his hands, Riva looked at him and smiled hugging him tightly.
Vanya: Papa look naa mumma is scolding me.
Vansh: Come baby we will scold your mumma for scolding my princess.
He said and went towards riddhima followed by Vanya, Riddhima looked at them who was sitting on the couch with angry Face.
Vansh: Riddhima, why you always scold my princess kyaa bigada hai usne tumhara.
He said while she angrily glared at him.
Riddhima: To apni princess se kahu ki apni mumma ki baat ek baar mana kare aur toys naa Toda kare.
She said in a calm voice.
Vansh: Riddhima it's her toys if she wants to play with them she can play, she wants to break them she can break them too but you will not scold varna I will scold you.
He said glaring at her and kissing vanya's forehead while riddhima made a cry baby face caressing her 5 month baby bump.
Riddhima: Look baby, now no one love your hone wali mumma not even your hone wale papa and hone wale didu. Let's go baby we will not talk to them.
She said looking at her baby bump and was about to go from there only to be pulled back by Vansh & Vanya. And they kissed either of her cheeks.
Vanya; Hone wali didu.
Vansh: Aur hone wale papa.
Vansh & Vanya: hone wali mummy aur hone wale baby se bohut pyaar karte hai.
They said together and hugged her tightly while she smiled cutely.
Riddhima: hone wali mumma aur hone wala baby bhi hone wale papa aur hone wali didu se bohut pyaar karte hai.
She said and pulled them closer hugging them while they both kept their hands on her baby bump and they shared a family hug.
Screen focused on their small family and Riansh thanked Bappa for sending them to their lives and felt blessed to have eachother in their lives
And they lived happily ever after.
So finally completed this story, I hope that you'll liked this story, do leave your comments down below.
Your Author
Tanya

The post You have to come back for me, for us, for our… Part 7 appeared first on Telly Updates.