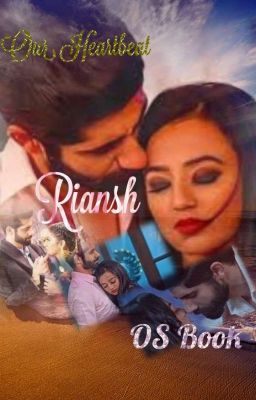 My Best Father OS – II
It's the continuation of "My Best Father OS"
——————————————————————–
Author's POV:-
Vansh kissed her passionately and opening the drape of her saree. He lifted her and closing the lights with another hand he hovered over her carefully.
He moved closed to give her another kiss and she closed her eyes, just then he felt something wrong and he kept his hand on his mouth.
Acchuu….
He sneezed and got up from over her shocking her.
Vansh…
She called him but he moved to take the tissue from table and while sneezing looked at her.
Which type of perfume you use Riddhima? Acchu….
He again sneezed while see looked at him and then at the vanity.
Your favorite one…
She said pointing at the vanity and moved close to him.
Stay away Riddhima… your perfume's smell… God… Acchu….
He again sneezed while stopping her.
Over here I'm pregnant Vansh then why you are behaving like a pregnant women sorry men.
She said and crossed her hands on her chest.
I don't want to talk to you and yeah don't come close to me with this perfume.
Vansh said throwing the tissue and moved to the door.
Oh mister, I'm not dying here to talk to you, so don't worry and why will I come close to you, and yeah just be happy that for the whole day you won't be able to see me.
Vansh turned around and moved to her.
What do you mean?
Vansh said holding her arms.
Right now, who was saying don't come close to me with this perfume, Riddhima and FYI I haven't change……
Before she could say Vansh pinned her to the wall carefully not to hurt their baby.
Instead of me why you always have these mood swings
Riddhima said and he closed her mouth.
Don't you get tired of speaking… achuu…
Vansh sneezed and she pushed him slightly.
Why are you sneezing?
Riddhima said and he rubbed his nose.
I guess I have caught cold.
Vansh said and Riddhima raised her eyebrows.
Yeah I don't have any issue with your perfume, so don't worry. Now tell me where you are going?
Vansh told her pointing at the vanity
Woah Siya and I are going for shopping.
Riddhima said clapping her hands.
Oh madam, Siya had gone to farm house.
Vansh said giving her his best smirk.
Who said she is here only I asked her not to go, since morning I was willing to go for shopping.
Riddhima said smiling.
You are not going out of this room forget about going for shopping.
Vansh said pointing his index fingers at her.
For god sake, I'm pregnant not sick and I'm going that's final.
Riddhima said and moved to cupboard and started checking her clothes.
Who am I, Riddhima?
Vansh asked out of the blue.
Vansh are you okay? Do I need to take appointment from psychiatrist?
Riddhima said coming close to him and cupping his mouth.
I asked you to tell me who am I?
Vansh said holding her hands and pulled her closer.
Ghajni ho gaye ho kya? (Have you became Ghajni)
Vansh rolled his eyes while she was looking at him with moist eyes.
I should be the one crying here then why are you crying?
Vansh asked and she pushed him.
Vansh you had memory loss now… What will happen to me and my child?
Riddhima sat on the bed crying while keeping her hands on her tummy while he rolled her eyes.
Not again, please (mumbling). I was saying this because whole follows me and see yourself, you are the one ordering me here.
Vansh told her and she looked at him in shock.
Now definitely you have lost your brain.
Riddhima said and moved towards the cupboard and just then she found herself in air. She craned her neck and saw Vansh who was lifting her.
Vansh what…
Vansh ignored her and taking out something from cupboard moved to the bed.
He made her lie down there and took her hands and then again he sneezed.
Acchu………
Riddhima tried to get up but again fell on the bed, she turned back and saw her hands which was handcuffed with the bed post.
You will sit here in front of me for the whole day.
She looked at him in shocked.
Vansh what are you saying?
She said but he ignoring her sat on the sofa.
Vansh please let me go just for 3 hours.
She said showing her puppy eyes.
This won't work on me Riddhima, I won't let you go even for 3 milliseconds.
He said still looking at the while she showed him in her tongue and picked up her phone.
Just then a knock came on their door.
Acchu………Come-in.
Vansh said sneezing and saw Siya entered, Vansh raised his eyebrows.
Bhabhi woah shopping.
Siya said and saw a priceless smile on her face.
Siya you can go Riddhima isn't coming and yeah ask someone to send salad for her.
Siya looked at Vansh then at Riddhima who shook her head in negative, she again looked at Vansh and nodded and left. Riddhima took the pillow and threw at her but till then she had already left.
Vansh moved to her.
What now?
Riddhima shouted and Vansh smiled at her anger but didn't let her notice.
Nothing I was just….
Riddhima stopped him.
I don't want to talk to you and you even don't dare to talk to me
Vansh nodded and left to bathroom Riddhima was shocked by his behavior.
Dadi where is she? Huh… I wish if he wasn't my husband I would have killed me, I planned this setup for something special and see him he is sneezing here and on that he didn't let me go for shopping. Idiot Raisinghania.
She said to herself and kept her hand on her tummy.
Baby you know your dad he is too strict he don't even let me eat my favorite street food, seriously whole day I eat those salads, come out fast na please…. Or these foods will kill my taste buds.
She said all to her grown baby bump, just then door knocked.
Come-in….
She said and took the pillow and hugged it close to herself. One of the servant was there with the tray.
Ma'am woah salad.
Riddhima eyed him and looked at the bathroom's door.
Actually Vansh had said that I can eat anything so you bring noodles for me.
Servant looked at her shocked while she was smiling.
But ma'am sir had especially said us to give these healthy foods to you.
Servant said pointing at the dish.
Aray you don't know anything he is mad, who will eat these olives, tomatoes and whatever that's green one is…. You just bring noodles for me.
She said smiling and looking at him but servant kept it there and bowing his head left.
Aray I said to bring noodles take it with you.
Riddhima said but he left closing the door.
I will complain to Vansh.
Riddhima said and heard a voice.
What you will complain to me?
She looked at her back and saw Vansh standing there.
Oh so that's why he didn't listened to me.
Vansh again ignored her and taking the tray moved to her. He opened the handcuff and she rubbed her eyes glaring at him.
What was the need to handcuff me? See my hand…
She said caressing it and pouting, Vansh took it and kissed on her wrist and she smiled at him.
Now have it.
He said forwarding the plate.
Vansh no na….see their faces see these olives it feels they are glaring at me.
Riddhima said pointing at them.
Riddhima it is Italian Salad, how can you say like these.
Vansh said being a bit shocked.
Italian or American I don't like it, so dare you to make m….
Before she could say Vansh kept the spoonful in her mouth and she glared at his smiling face.
Now eat without speaking anything.
Vansh said forwarding another spoon.
Why are you not sneezing?
Riddhima asked out of the blue by raising her eyebrows.
How can I sneeze on my own?
Vansh asked shocked by her question
Then too why are you not sneezing?
Riddhima asked while drinking water.
Are you mad when I was sneezing you were having problem when I'm not then too you are having problem. What do you want me to do?
Vansh said keeping the plate on the table.
Give me a kiss.
Riddhima asked shocking him but he didn't waited for anything and captured her lips. He was sucking her lower lips while one of his hands was on her back caressing it and other was on her waist pulling her closer, he was sucking it and was giving sweet torture to her lips. She was a bit shocked by his sudden action but encircled her arms on his neck and took his hair into her fists. His hands were roaming on her thighs now he slides it to her waist and started caressing it slowly.
He then pulled her closer and His hands which were roaming on her waist was now moving to her belly, he caressed her there and moved to her saree's plates. He put one of his hands on one of her plates and slowly took it out.
Mature content starts:-
While Riddhima was unaware of his hand's doings as she was busy in kissing him passionately. Vansh pulled her closer by her waist making her gasp and he slipped his tongue in her mouth exploring every corner while he was inhaling her scent. Until now his other hand which was on her saree had completed its work. He remove his hands from her back and made her lie over there, he again hovered over her carefully and his lips which were on her lips now went to her neck. He licked her neck and bite her there due to which a painful moan escaped her mouth, he started sucking her there to soothe her pain which now causes her to moan in pleasure.
His one hand then unties the lace of her petticoat while other unhooked her blouse and slowly removed it while he again took her lips into his and making her lost in his kiss he removed her petticoat and she was under him in just her bra and panties. When she felt the cold air of AC touching her bare skin, she realize what he did.
She opened her eyes and saw his face which was busy in kissing her. She moan when his hand which was on her waist moved to her belly button, he pinches her there and she opened her mouth to give him access to enter. He started exploring her mouth while she slowly unbuttons his shirt and threw it away when he gave her access.
He now unhooks her bra and threw it away. He licked on her neck while one of his hands kneads her one br*ast and leaving her neck captures her other nip*les and started sucking it. When he was done with sucking he bite her there and she again moans in pain and he repeats his procedure to change the pain to pleasure. His hands moves to her panties and he removes it.
He then looks at her face and her lips which were leaving his name in a splendid way. He started caressing her clit and moved his hands there in a circular motion. She moans his name and he enters one of his fingers into her. He moved to her and started sucking on her collarbone, while he enters another finger into her. She squirmed under him and he enters other two. Her lips trembled as she felt the knot in her stomach and she release it on his fingers.
She looks at him when he moves to her soft spot and licks her there, she moans his name and squirms. He felt her gaze and looked at her face. He shook his head and within a second she understood him. She pleads to him and he again enters his finger into her and moved to her face and joins their heads closing their eyes
I won't even take the risk to hurt our baby for a second.
She was about to say something when he captures her lips and sucking it whereas she understood his care and responded his kiss. Soon both laid there hugging each other.
Mature content ends-:
—————————————————————–
After 4 months:-
In a room, a baby girl was lying in the cradle throwing his hands and legs in the air. A girl came to her and took her into her arms. She is Riddhima.
Varu…. Why are you crying baby?
Baby looks around as if searching someone.
Varu baby is searching for her dad, well he is still sleeping. See…. Don't know when he will wake up, I'm trying since long time.
Just then Aryan enters into the room and saw mother and daughter talking to each other.
Bhabhi, Mom is calling you. Woah tomorrow is dadi's………
Riddhima understood him and gave him Vari and left the room.
Vari was missing her chachu.
Vari smiles and pulls his cheeks and he smiles. Then she points at the figure sleeping on the bed. Aryan who was smiling his smile vanishes.
Varu you know you should be proud of your dad he is sleeping there since 5 months, just to save you he gave his life. You know that day was bhabhi's regular check as bhai was having an important meeting he wasn't able to go with bhabhi so I went, that day everything was fine with us till we were in hospital but then Bhabhi was willing to go for shopping.
It was her pregnancy mood swings so I took the permission from Bhai and we went. That day only a terrorists attack held in the same mall, when bhai got to know about it he came there. Just when that blo*dy goon was about to shot bhabhi on her bump where you were Bhai went on his knees and that bullet hit on his chest.
We rushed him to the hospital and as we were a bit late he went into coma, until next 4 months he was ok but then 12 days back doctor told us that there is no chance of him to wake up and another mishap took place.
Due to this news, dadi got a heart attack and we lost her. I'm not understanding how bhabhi is able to handle herself after all this. It's must be very difficult for her. She is even one of the doctor she is aware that after the bullet pierced through his heart it was difficult for him to wake up. Actually he is just on life support or he is de….
Before he could continue a slap was laid on his face. He looked to see Riddhima
Have some shame Aryan, he is your elder brother. How can you say……?
Riddhima said and took Vari and laid her in the cradle.
Bhabhi I'm not saying this doctors are saying this…
Riddhima stopped him by showing her hands to him.
Stop it Aryan, I know Vansh will wake up I still have belief in my Bappa, Vansh won't leave Vari alone in this world. He will wake up and if not then I know how to wake him up.
Riddhima said and fell on her knees, Aryan got on his knees and took her into a hug. Siya who was passing by heard everything and came in and hugged her bhabhi from other side.
Bhabhi if you had faith then only we had bhai will surely wake up. He must be strong but we aren't to face such a loss again and again. First dadi and then no never we won't lose our faith. He will wake up bhabhi.
All three were in a hug when they heard Vari's voice.
Pa…pa…
All looked at her and a smile crept on their face.
Bhabhi did she said papa…?
Aryan asked and Riddhima nodded.
Baby say again please.
Riddhima took her into her arms and asked to say again but how will she after all arrogance was in vein, she was VR's daughter how will she say so easily.
Baby you won't listen to your mumma.
Siya said and Vari looked at Riddhima and then at Vansh.
Pa….pa….
All smiled and Riddhima kissed her cheeks.
A deep breath was taken all three looked at each other and then at the figure on the bed………….
********************************************
Well I'm sorry if you found it to be boring…
Sorry for any grammatical mistake……
The post 🥀My Best Father OS – II🥀 (Riansh OS Book) appeared first on Telly Updates.